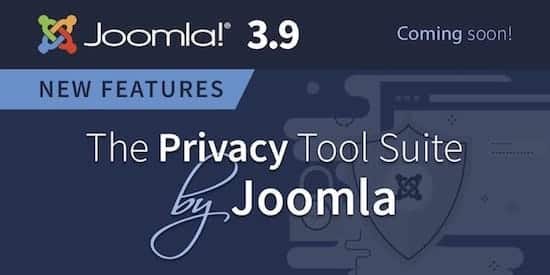 Joomla 3.9 is slotted to contain the new Privacy Tool Suite.  It looks like it will be a great set of tools that will give Joomla a great advantage over other content management systems.
The following Links will get you started using the new Privacy Tool Suite included with Joomla 3.9:

Features*
Consent Project Board:

get consent of registered users (form plugin)
track consent of registered users
log their activities
take care about the consent retention time

Information Requests Project Board 
Facilitate your workflow related to your user requests:

make it easier to the users to submit information requests
track the status of the users requests
let the user access and download their data.

Core API Project Board
Provide an API for extension developers so they can report the data they collect and this info can be displayed in the new com_privacy extension
Right now it looks like the documentation, etc is still in the works.  This post is currently just a repository of links related to this new framework.  Later I will update about what it can do and how to set it up.
Overviews
Joomla Documentation
Components:
Modules:
Plugins:
Code
*from https://data2.eu/en/gdpr-tips/146-joomla-gdpr-compliance