Shopping Horsefeathers of Salado is Easy with this New eCommerce Site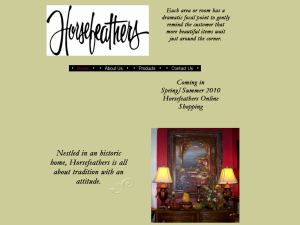 From Waco, it is a short, pleasant drive to the small town of Salado, the perfect place to shop for unique things for your home. Now, it is even easier to choose fine home furnishings and accessories online at Horsefeathers of Salado.
---
Horsefeathers, well know as "the" place to shop in Salado for one of a kind accents for the home, now offers a wide variety of fine accessories online. From candle holders to clocks….Horsefeathers of Salado has something special for your home and now you don't have to plan a short trip to get there! This beautiful, custom designed website puts the emphasis on the fine products that Horsefeathers offers.
This new eCommerce site includes:
CMS (content management system) easy to manage and update
Tienda eCommerce system
Easy to manage product catalog
Image gallery for every product
Inventory system
View and manage orders easily
Full line of reports including orders, inventory and financial
Secure payment options
Supports coupons or promo codes
Custom design
Slide show with "Ken Burns Effect"
Create Sales or Featured Items
Social Media including Facebook, Twitter
Shopping is easy….and fun. Visit Horsefeathers of Salado today.
http://www.horsefeathersofsalado.com/
Old Site New Site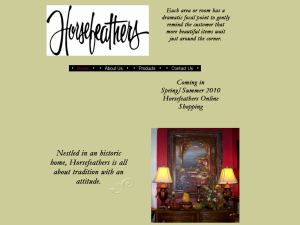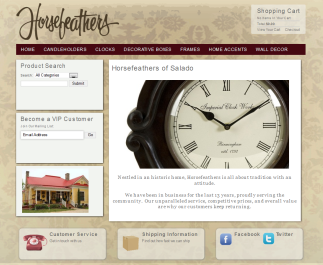 YellowWebMonkey Web design offers reliable website design, SEO and digital marketing services for Joomla, WordPress and Shopify sites. We strive to be a one-stop shop for all your web needs.