JoomlaDay Florida 2019 Recap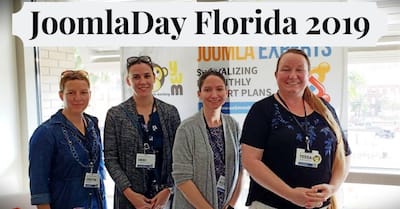 This past weekend, YellowWebMonkey had the distinct privilege of sponsoring JoomlaDay Florida 2019. The three-day open source web conference and expo took place in beautiful Tampa, Florida and is the largest attended Joomla event in North America. The weekend consisted of insightful keynotes, training, sessions, workshops, labs, and certification. It was a great event to network with other "Joomlers", learn more about Joomla, and hone our skills.
While we normally help educate users about Joomla through our online tutorials, it was an amazing opportunity to be able to connect with other Joomla users in real life.
If you're interested in attending a JoomlaDay conference in 2019, YellowWebMonkey will also be sponsoring and attending JoomlaDay Texas 2019 in Austin, Texas on September 28th. Our own Alexis Priddy and Tessa Snodgrass will both be speakers at the event. Learn more here. We hope to see you there!
YellowWebMonkey Web design offers reliable website design, SEO and digital marketing services for Joomla, WordPress and Shopify sites. We strive to be a one-stop shop for all your web needs.