Committed to the highest standards of ethics and integrity call on Winstar International for all your branding needs.
---
Winstar came to YellowWebMonkey looking to not only revamp their site, but they needed a solution that would allow them to make updates themselves.

In today's ever changing market, keeping information, products and services on your website current is key to staying relevant and ahead of the competition. YellowWebMonkey specializes in Joomla Content Management Systems which quickly and easily allow even a novice user to make changes to their own website. Winstar's new site takes full advantage of this technology. Built in Joomla 1.7, they are able to login to an easy to use interface and make text changes, add items to their portfolio, create multiple slide shows and put together galleries to feature their products.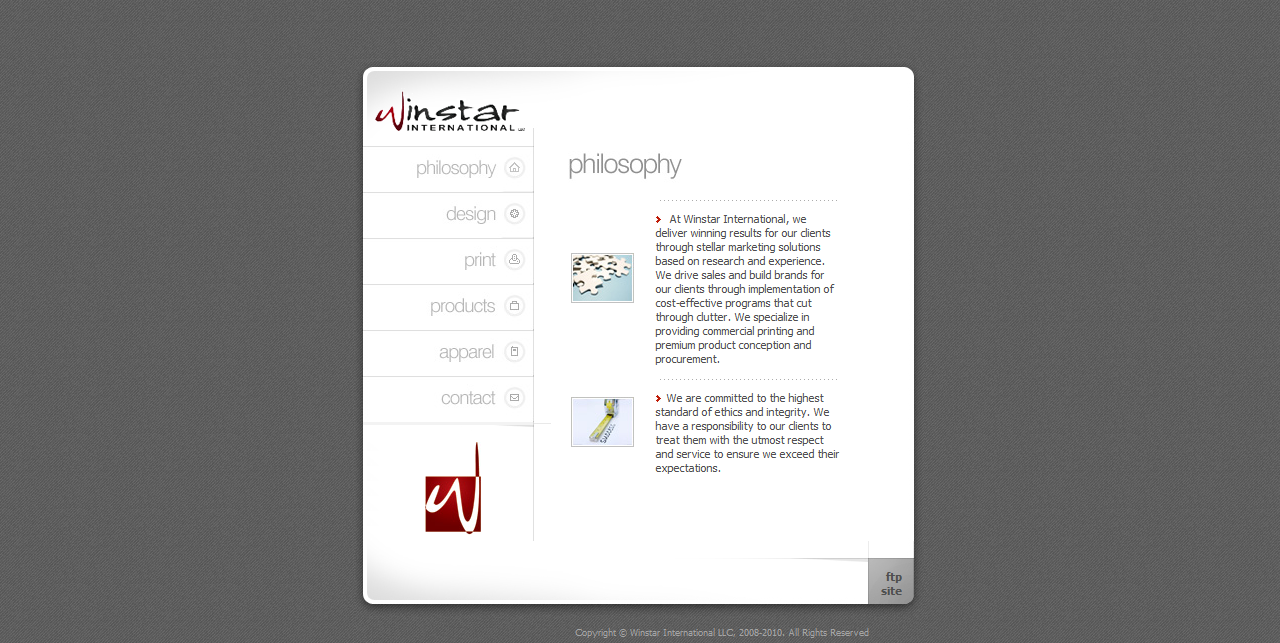 Their old site was built at a fixed width, meaning that regardless of what size monitor you are on, the dimensions of the site would be the same. While this was fine for the typical 19″ monitors we all had back in the day, on today's larger scale monitors, viewers would see a very small site in the middle of their screens. This was a major drawback as it didn't take advantage of valuable screen real estate to feature their offerings. Small space also equals small type. Fonts were difficult to read and pictures were small so the overall site experience left room for improvement.

Visually they were also looking for a site that had a good initial impact, so that at first glance you know who they are and what they do. The original site didn't fully speak to the depth and breadth of products and services they offer.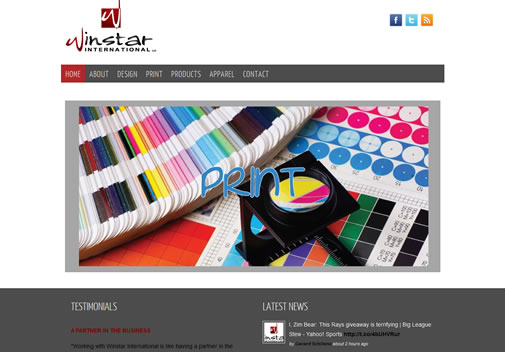 The new site is bigger, bolder and more engaging – allowing them to capture visitor interest right from the home page. The top style navigation makes it simple for visitors to see their major offerings at a glance and easily navigate to the sections they want to visit.
We added a Testimonials feature to allow visitors to read about other client's experiences with them as well as a Latest News section where they can make special announcements.
An updateable FAQ section helps answer many of the questions clients have without them needing to pick up the phone and quick links to their social network also help make the new site more functional for their needs.

So If you're looking for custom printed products to leave your mark, visit Winstar International. T-shirts, pens, golf balls, corporate awards, water bottles, leather padfolios – the possibilities are endless. They can help you create high quality distinctive products that will keep your brand in front of your customers.