YellowWebMonkey works exclusively with the Gantry framework for the templates on all the sites we manage. We have extensive experience with both Gantry 4 templates and Gantry 5 templates for Joomla. We offer Gantry4 to Gantry5 "upgrades" as well. Even though the frameworks are incompatible with each other, we can recreate your existing template in Gantry 5. Contact us for specific projects.
Part of why Gantry is so powerful is because of the "particle" add ons that other developers have made. Please check out the Particle Directory we have compiled or Add a New Particle.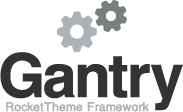 YellowWebMonkey is not affiliated with the developers of the Gantry framework, we just have a ton of experience with it.