Welcome Julie Diamond Ensembles of Charleston S.C. to our Website Portfolio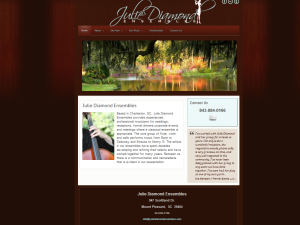 YellowWebMonkey has expanded to the south and added a little southern charm and hospitality to their portfolio with this new site designed with brides and event planners in mind.
---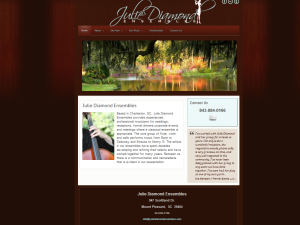 Julie Diamond Ensembles offers premier professional wedding and event music in the "The Holy City". Charleston is one of the most popular spots for destination weddings in the U.S. and this new site makes it easy for busy wedding planners and brides to connect with Julie as they plan for their special day.
This custom designed website includes:
An extensive data base of music selections
Audio demos of their music displayed on the site
Photo gallery featuring the venues in the area
FAQs database
Slideshow showcasing the ensemble and local event space
Testimonials displayed in random rotation throughout the site
Custom Music Selection Sheet and Contact Form, making client contact fast and efficient
Social Media Toolbar including Facebook, Twitter and LinkedIn
Links section displaying suggested wedding resources
Finally, like all YellowWebMonkey sites, this Joomla CMS is easy for Julie to update, insuring that everything is fresh and relevant. Visit juliediamondensembles.com
YellowWebMonkey Web design offers reliable website design, SEO and digital marketing services for Joomla, WordPress and Shopify sites. We strive to be a one-stop shop for all your web needs.