The Centex Hispanic Chamber of Commerce has a new website that communicates their mission, showcases their events and promotes their supporters.
---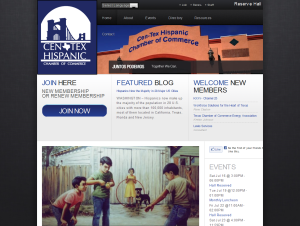 With this new Joomla content management system site, they are able to update their events, images, advertisers and member directory themselves, with a little simple, online training.
This site includes:
A calendar featuring a variety of categories as well as a public view and private administrator view.
Database for advertisers with banner advertising that is easily changed
Database of members
Photo gallery of their popular community events
Front page slide show featuring the work of Jose Villareal, a successful San Antonio artist
Social Media Toolbar
Embedded Video featuring Noticias
Testimonial Database
Custom Online Forms for Membership, Membership Renewal and Event Hall Reservation
Additional databases to include a Job Board and Local Resources
Blog and RSS Feed
Easy to find Newsletter Sign Up
Visit this new site today and learn how Centex Hispanic Chamber not only benefits the community, but how membership can benefit your organization or business.