The QR Code and the Many Uses it Fulfills

The QR code is one of the latest technologies to make a splash in the business world. It's a tool that has many positive uses for both customer and business. However, before explaining its many uses, some of you may be wondering, what in the world is a QR code?
---

Like it's older brother, the bar code, the QR code stands in for some form of information. It could be anything from a link to new products, a link to Facebook, or even coupons. The QR code works as a portal between customer and business, a small information highway. Customers use their smart phones to scan the QR code and once scanned, it links them to some page about the business. QR codes are effective in that the curiosity of what is at the other end is what makes many people scan. The fact that a coupon or a possible money-saving deal could be awaiting is a tipping point in whether or not someone scans. In fact, the possibility of coupons is the number one reason people use QR codes. This is one of the factors responsible in why shopping mothers are the number one users of QR codes.
So now that you understand what QR codes can do, I'll bet you're wondering, "How can this help my business?" The following lists several possible uses:
Coupons
Company Website
Facebook, Twitter, Etc.
Product Info
Newsletter Sign Up
Sweepstakes
The list goes on, and the possibilities only end when your creativity does. You may be saying, "Wow! QR codes sound pretty cool. But how do I see one in action?"
The first step is to download a QR code reader for your smart phone. Below are links to the most effective QR code scanners on iPhone and Android.
Android: https://market.android.com/details?id=la.droid.qr&hl=en
iPhone: http://itunes.apple.com/us/app/qr-reader-for-iphone/id368494609?mt=8
For this example I am going to use my iPhone to scan the QR code on the YellowWebMonkey homepage. This QR code is located at the bottom right of the homepage.
Open your QR code scanner and hold it over the code. Then follow the instructions of your app to scan the code. NOTE: Some apps automatically scan and some tell you to act as if you're taking a picture of the code.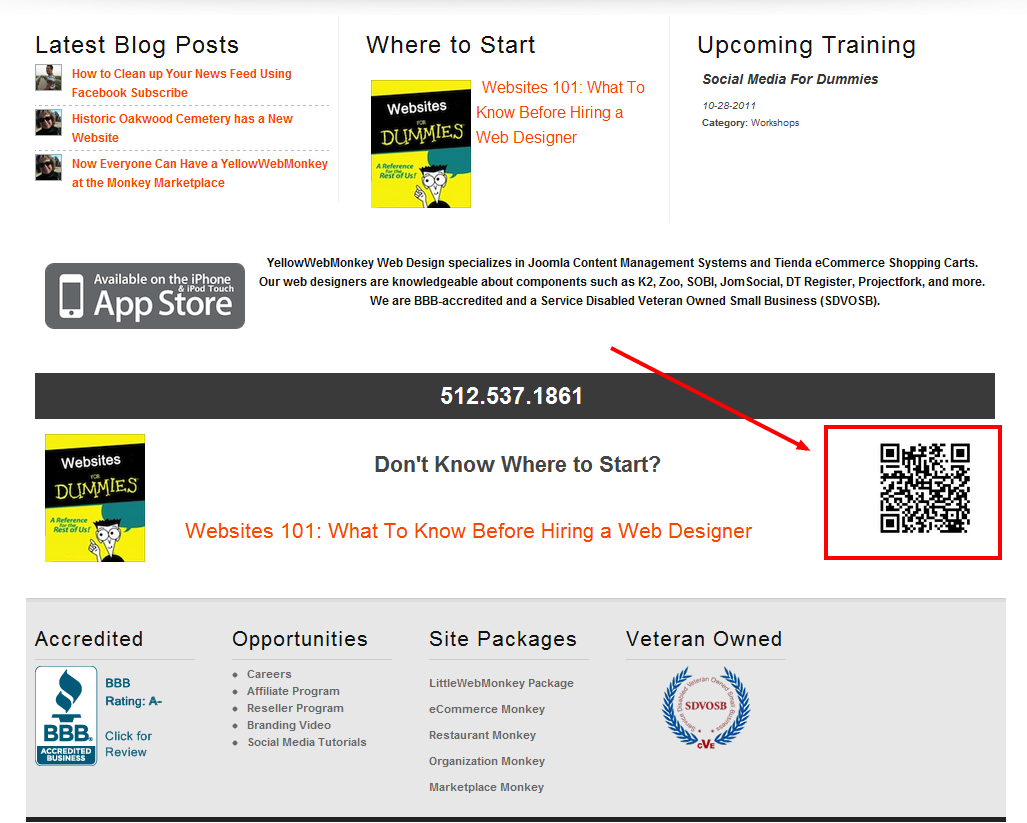 Now that I have scanned the QR code for YellowWebMonkey, my phone has linked me to a YellowWebMonkey portal! This link provides several alternate links to social media sites like Facebook, Twitter, and can even direct you back to the website.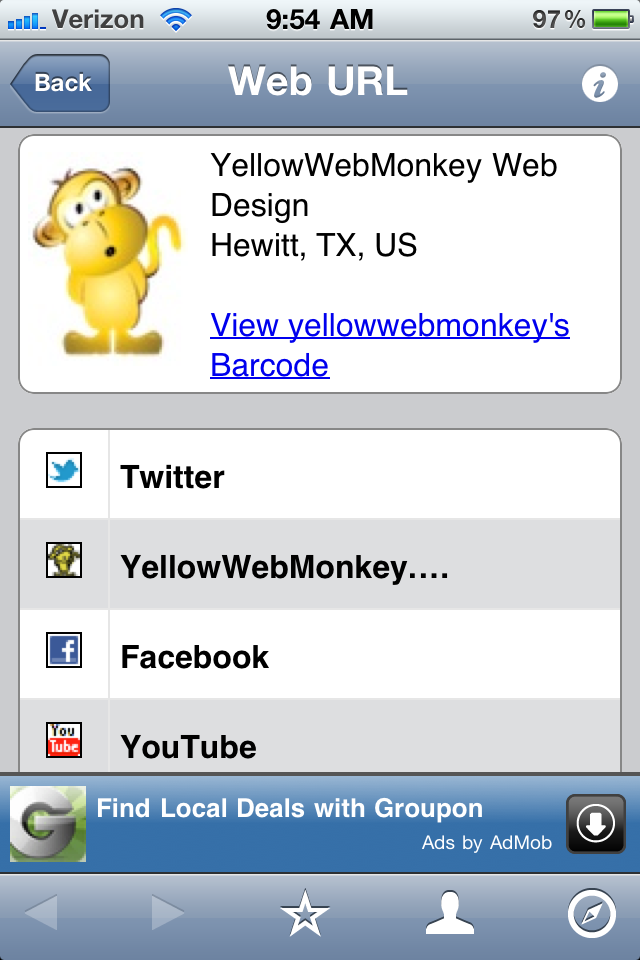 The QR code is a quick and easy way to inform your customer about anything your business has to offer. Now that you have the necessary information on how a QR code is used, why not try making one for your business? YellowWebMonkey has our own QR code generator that can make a code for your business, or provide practice at making one. In fact, we highly suggest that you make one for your business, as this technology is growing faster and faster.
QR Code Generator: http://www.yellowwebmonkey.com/ywm/suggested-links/item/qr-code-generator-2
Statistical information: http://visual.ly/rise-qr-codes
YellowWebMonkey Web design offers reliable website design, SEO and digital marketing services for Joomla, WordPress and Shopify sites. We strive to be a one-stop shop for all your web needs.