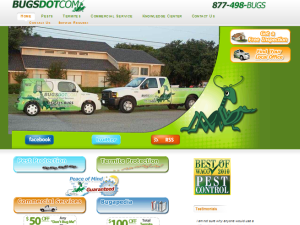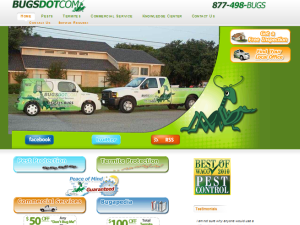 YellowWebMonkey just launched a new website for BugsDotCom, a Waco based pest control company that services all of central Texas.  The challenge was to create a website that was not just eye catching, but also interesting,educational and of course, easy for people to find.    The site contains all the information you would expect, plus a few extras.  It has an extensive library of all the products BugsDotCom uses stored in a nifty little file cabinet.  Another fun feature is the Bugapedia, where you can easily identify insects common to the central Texas area.  Did you know "Flies taste with their feet?" Probably not, but check out the Fun Facts that appear throughout the site to learn more about the insects common to Texas. This site includes:
Easy to use interface making it easy to schedule an appointment or learn what services they offer
Pest Gallery so clients can easily identify pests common to central Texas
Integrated with Social Media with large icons making it easy to connect along with a live Twitter feed
Downloadable MSDS label base for all of their products
Testimonial database
Features "Best of Waco"
Visit this new site   http://www.insectcity.com
YellowWebMonkey Web design offers reliable website design, SEO and digital marketing services for Joomla, WordPress and Shopify sites. We strive to be a one-stop shop for all your web needs.