Are you ready to celebrate the end of 2020? We certainly are! 
Without the typical in-office Christmas parties, gift exchanges, or games of the days of pre-pandemic office life, there is still much to celebrate. With the Christmas season upon us, we in the small business world are coming up with new, socially distanced ways to celebrate the holidays as a team.
Using the technology that allows us to be a company made up of geographically diverse team members in the first place, our graphic designer, Su-Yen Smith, has come up with some creative ways to celebrate Christmas and all the accomplishments of our company over this past year.
Here are some ideas for you to celebrate with your colleagues while showing them how much you appreciate them.
What kind of party would your team enjoy? 
Are they conservative or laid back? Are they intellectual or more silly? 
If you are having trouble knowing how to answer those questions or knowing what kind of party to throw, you can use Google Form to create a survey. Send it to your team and narrow down your options. Here is the one Su-Yen created for us: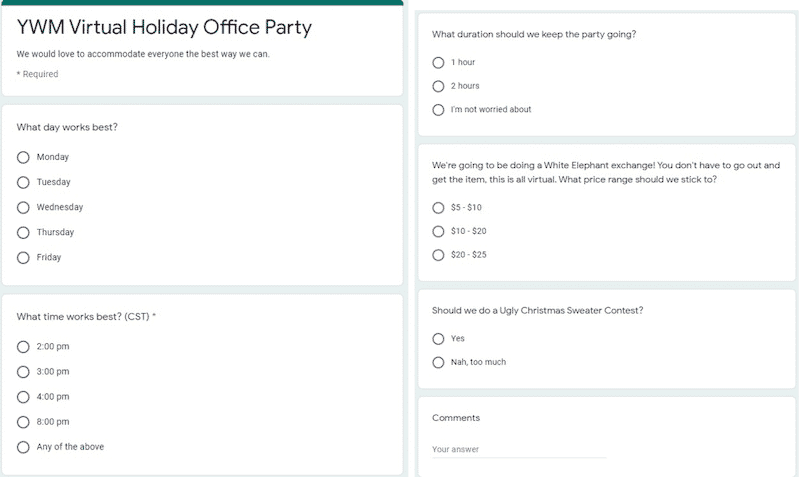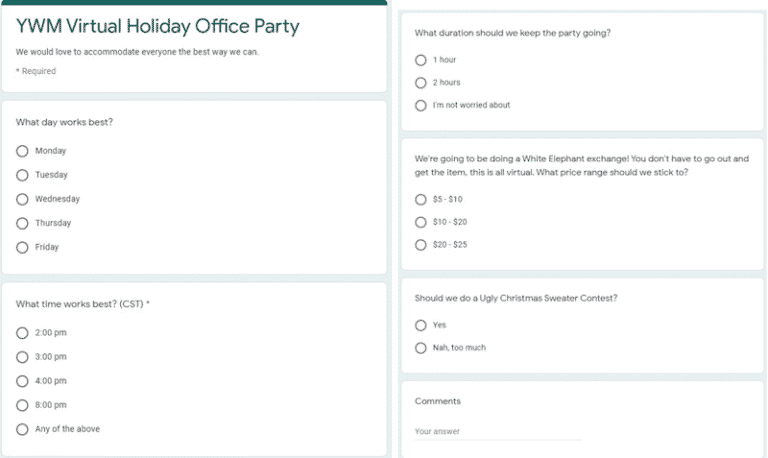 a. Date/Time (keep in mind time differences)
b. The duration of the party they prefer: 1 hour, 2 hour, 3 hour, or any of above
c. Would they be willing to participate in Ugly Xmas Sweater contest
d. Price range of the White Elephant: $5-10, $10-20, $20-30
e. Possible activities: 
White Elephant

Trivia game 

Ugly Xmas Sweater Contest

Scavenger hunt
Send the invitation 
You can create a fun, custom Christmas party invitation using Canva or preferred graphics platform and publish it to your workplace platform (we use Slack).
Su-Yen also created a graphic to announce what she needed from each of us on the team.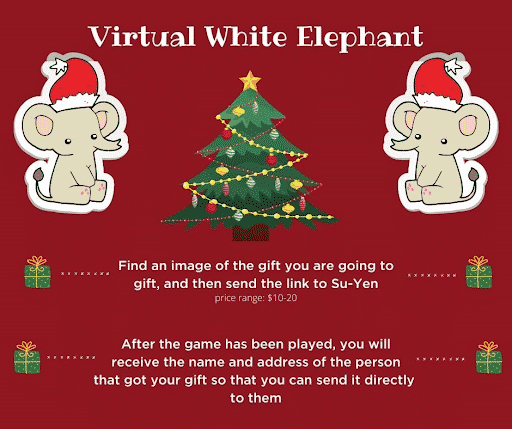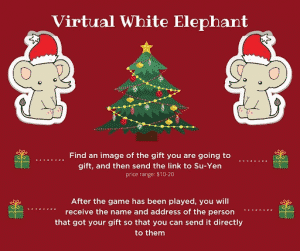 Party Time!
Pick a fun background from Zoom (sort by season to get straight to the holiday options) or check out these festive Zoom background options from Good Housekeeping.
Enjoy the fun games your team voted on and have a merry Christmas work party!
Here is how we are conducting our virtual gift exchange, trivia challenge, and scavenger hunt:
WHITE ELEPHANT: after figuring out the price range, ask team members who want to participate to send you a link or a picture of the item they want to gift. Grab all the images of the gifts and put them on a Google Slide. Using Google Slide will allow everyone to be able to "edit" the slide in real time. Once the images of the gifts are on there find a couple of clip arts of presents to place over each individual gift so that it can not be seen at all. The host will assign a number to each team member, this will be the order in which everyone will go in. The same rules will apply; the next person will have the choice to steal an open gift from someone or pick a wrapped gift. First person that goes will get to choose at the end to keep their present or swap with something else. Decide the limit of stealing a single present will have.
TRIVIA: think of your group and try to pick a theme that everyone can relate to. We are a group of moms, so our theme will be "A Mom's Life"
SCAVENGER HUNT: Think of items that would probably be in your average home. Also think of some items that they probably would have but have to dig a bit to find. And also of 1 bonus item (maybe Christmas theme). Set a time for how long they have to find each item, so that it doesn't take too long. Set a point system: 1 pt for having the item, 2 pts for being the first back to their computer, and the bonus item is worth 5 pts.
From all of us at YellowWebMonkey:
MERRY CHRISTMAS and HAPPY NEW YEAR!