Shopify gives you the ability to create orders for your customers and send them an invoice for payment right from your Shopify admin or app. The order you create will be saved as a draft order until payment is accepted. This can be useful for a variety of reasons including:
Taking payment for an order over the phone, in person, etc.
Sending customers an invoice with a direct link to secure checkout
Sell products with discount/wholesale pricing or special shipping rates
Pre-orders
Keep reading to learn more.
1. Log into your Shopify admin. Go to Orders and click the Create order button.
Add products to the order
Add a current customer or create a new customer
Apply discounts
Add shipping if needed
Turn taxes on or off
3. Once the order is complete, you have a few options. You can:
Accept payment – Click 

Collect payment 

and

Mark the order as paid if you have already received payment (like by cash).
OR enter credit card information (This option is great for taking payments over the phone.)

Save the draft order to edit later by clicking the Save button at the top right corner of the page.
Send an invoice to your customer with a direct link to checkout for payment. (see below)
Sending an Invoice for a Draft Order
1. On the draft order page, click Send Invoice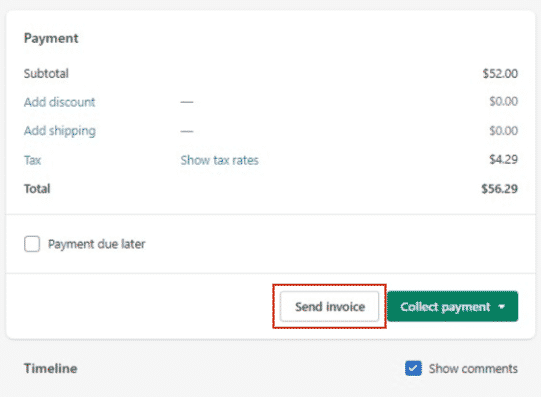 2. In the popup window
Check the email for the invoice
Add bcc if needed
Shopify automatically fills in the subject with the Invoice number
Add a message to the customer
Click

Review invoice
3. In the popup window, review the invoice and if everything is correct, click Send Invoice.