If you're looking to have some work done on a website, we know that you will have questions – and you should. Hiring someone to work on your website is a big deal and we want to make the process as easy as possible for you to have all of your questions answered. So now we've made it easier for you to get those answers. No need to call us (we know these days no one really likes to pick up a phone), and email somehow seems a little "slow" with the whole advent of texting, so now we have someone standing by live on our website that you can ask questions of and get immediate answers.
We've added a "Live Support" Feature down in the right hand corner of our site where you can type your questions and get live answers from a real person. How cool is that?! We've added it to every page so no matter where you are on the site you'll be able to get an answer. We are a US owned company and we don't subcontract any of our work including our live support feature. You'll get answers from an actual live person who would be working on your site, so feel free to ask us anything – we don't expect you to be an expert that's our job.
When we're online and available for questions this is what you will see: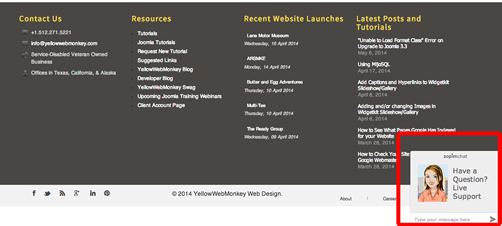 So feel free to type away and ask all of the questions you need. If we don't have a live agent available at that very moment you can still send us questions. You'll see this instead: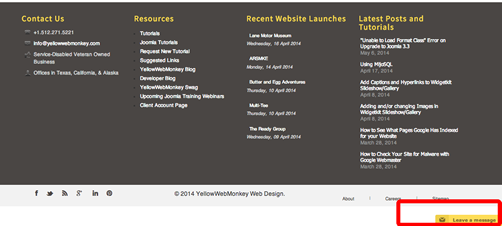 Feel free to send your questions and we will get back to you within 24 hours. Remember there are no stupid questions, so ask away and we'll help you in any way we can.