Holtek Fireplace and Solar, a creative Waco based company just launched a new website this week.  Holtek, a company that works with hearths and solar products, helps customers create the look and functionality they want within their budget.  Now, they have a new website to showcase the products and services they offer.
---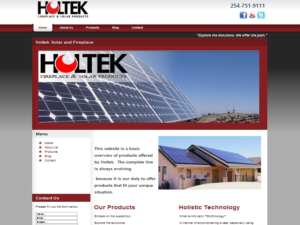 This LittleWebMonkey Site includes:
5 pages that incorporate Holtek's info and images
A convenient contact page for clients
Easy to update blog page so Holtek can share their expertise
This CMS (content management system) site is easy for the people at Holtek to update, so they always offer current information on products and services.
Visit them at http://holteksolar.com